Contributors
Diana Gibaldi

Diana Gibaldi is a PhD Candidate/Potential Drop out in the School Women's Studies at York University in Toronto. She currently teaches Women's Studies at Brooklyn College and Sociology at St. Francis College. Outside of being a professional feminist, Diana belongs to the incredible 312 community, runs the 312 newsletter and enjoys knitting, cats and sunlamps. Her debut role as "boom guy" for Lightning Rod has spawned a career in showbiz. She is well known for her interview with the star of said film which is currently ranking "Most Viewed 312 video" on YouTube.
Diana Gibaldi videos: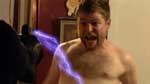 Lightning Rod
Sometimes you just have to unleash the power...in your pants.
12-17-2010