Contributors
Sally

Sally is actually a collection of catchy love songs, written and guitar'd by Jordan Cooper and sung by Kristen Gudsnuk, with the fabulous Will Kastner on drums! There also may be an accordion, glockenspiel, kazoo, and melodica involved.

Catchy and pretty and funny and sad, these songs shape the autobiography of one SALLY, a girl whose heart has been through Hell and back, and then to Hell again.

Sally has been performing in the NYC area for several months. They are currently at work on their debut EP, "We Are In A Car."
Sally videos: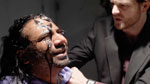 Punch
Taking the bored out of waterboard.
03-30-2012